Beginner's Practice
Sign up for three free practices on Eventbrite. Make sure sure you have signed the beginner waivers and the DCDBC 2023 Covid-19 Guidelines before attending any practice.
Practices run on Tuesday evenings and Saturday Mornings.
If you have any additional questions, please email the beginner's coaches at beginners@dcdragonboat.org.
2023 Races
May 20, 2023- DC Festival (mixed), Washington D.C.
June 3, 2023 – IDBR, Philadelphia, PA
July 21-24, 2023 – Club Crew National Championships, Sarasota, FL
August 5, 2023- Richmond International Dragon Boat Festvival, Richmond, VA
August 19, 2023- Solomans Dragon Boat Festival, Solomans Island, MD
September 17, 2023, Mercer Country Dragon Boat Festival, NJ
Paddling FAQs
What to Wear
Dragon boating is a water sport. Dress as if you would go to a water park, canoeing or kayaking, and prepare to get a little wet. Most newcomers will tend to splash water, so wear light swim- or exercise-type clothing that won't weigh down if soaked. Avoid wearing cotton as it soaks and retains water, making you feel uncomfortable, will conduct away body heat, and may restrict your movement. While on the boat, you can wear sneakers, water shoes, or flip flops. A pair of sunglasses will both help keep out the glare and protect your eyes from splashing water. A hat is highly recommended to keep you cool when exposed to the sun in the middle of the river, and it helps keep your head from getting wet. Sunscreen would be helpful in keeping you from getting burned. Being in the middle of the river exposes you more directly under sunlight. The bench in a dragon boat is hard and can wear on your derriere. Sitting on gardening kneeling pad works well for most people.
What to Bring
Not much, except a 500ml bottle or two of water. You will definitely need water, even when it's not hot.
What Will Be Provided
We will provide you with a personal flotation device (PFD) and a paddle.
How Often Can I Practice?
Club members can attend as many practices they want at any time. Club members sign up for team practices through TeamSnap.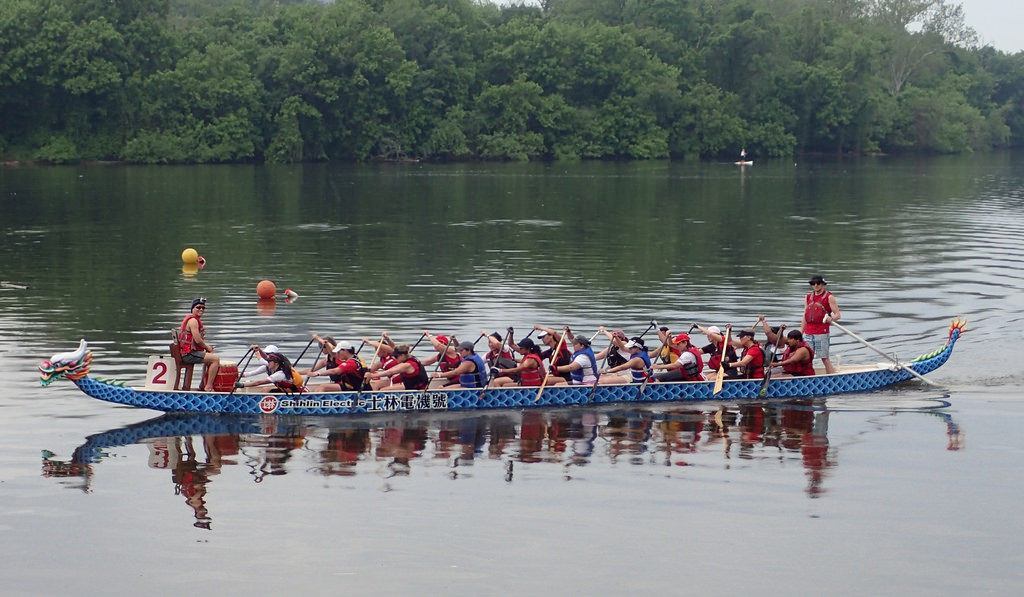 Cancellations
In case of uncooperative weather (Hurricane, Tornadoes, Severe Thunderstorms, Hail, Torrential Rain) we will cancel practice. If you provide an e-mail address, you will get a message either the night before in case of severe weather, or a couple hours before practice. Additionally, check TeamSnap for notifications of practice delays or cancellations.
General Practice Commands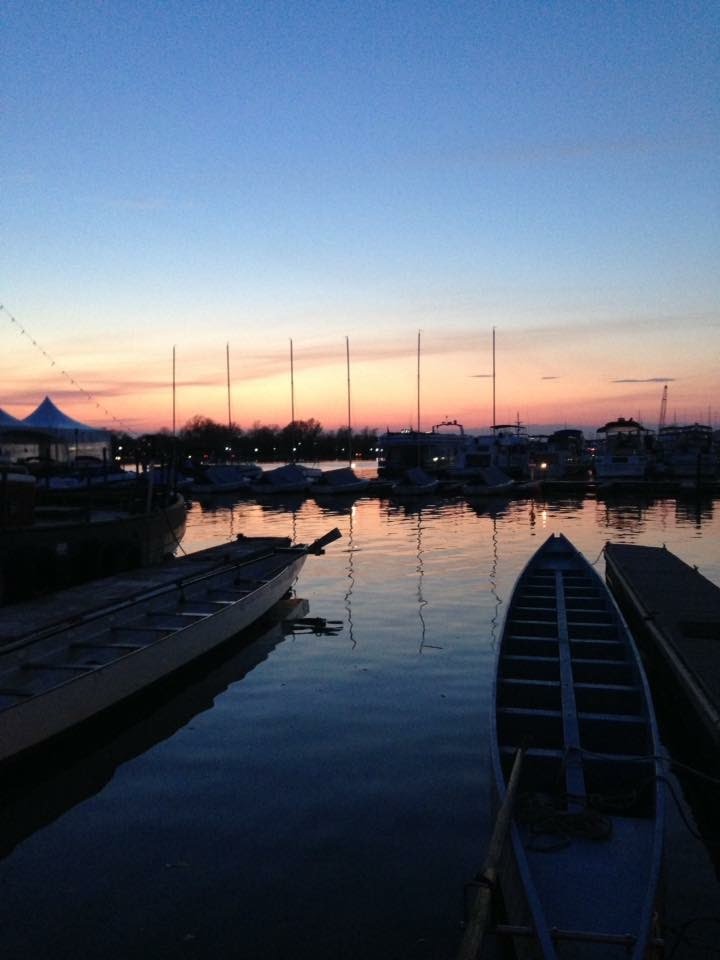 Dragon Boat racing requires a high degree of responsiveness from all members for safety and competitiveness. When a boat needs to make an immediate quick maneuver, responding timely to commands will surely help keep things safe and fun for all.
LOAD THE BOAT: Step onto the boats after having put on and buckled your PFD, with everything ready to go. When getting on the boat, be sure to do so one person at a time, one foot at a time. Start by stepping as close to the middle of the boat as possible, and once both feet are in, keep your profile low –in effect, lower the center of gravity.
SIT READY/READY ALL: Sit up straight and hold the paddle across your legs, extending the blade out to the water. This is a straight posture but relaxed position, used for reinforcing attention and focus through the entire crew.
PADDLES UP: Hold the paddle in the A-frame forward ready position. Blade slightly touching the water surface in front. This command is to get everyone to start the synchronization of the the very first stroke to take the boat away. This is only done in non-race maneuvering. In races, we would use a different command for the "get set & ready " position.
GO/TAKE IT AWAY: Simply start paddling.
HOLD WATER/CHECK THE BOAT: Action to stop the boat from moving. Plant your paddle swiftly and fully perpendicular to the gunwale and brace with your body to stop the boat from moving forward or back.
DRAW (LEFT / RIGHT): The paddlers will lean out to the side and pull water (deep) towards themselves – like having lost an object and trying to scoop it back. This is essential on the starting line, or when the boat needs to make quick turns, when winds may drift the boat sideways and the steersperson is trying to line the boat up directly down the course. Often, the steersperson will only call "First Two," or "First Three Draw Left/Right" or "Back Two/Three." The numbers mean the seat number. "First Three Draw Left" means the first three seats draw on the left side (the left-sitting persons only as in this case, we need to draw in from left).
PUSH (LEFT/ RIGHT): This command is the exact opposite of DRAW. Bury the blade deeply below the boat, with the blade's flat surface parallel to the gunwale, and push outward.
FOCUS (used at DC Dragon Boat Club): Suspend conversation, diversions, distractions and focus in the boat and on the task at hand.
LET IT RUN (or Let it Ride): Stop paddling and hold the paddle in the sit-ready position, blade on top of the water to maintain balance while letting the boat continue to glide.
BRACE THE BOAT: To stabilize the boat. Paddle blades flat on the surface of the water with blades gently feathering back and forth.The shaft of the paddle pressed against the top of the gunwales.
RACE START COMMANDS
MOVE UP: "First Three Seats, Give Me 3 Strokes." Steerer commands certain seats (always paddler pair in this case) to paddle exactly 1, or 2, or 3 strokes to get the boat to alignment at the start line.
BACK DOWN: "Last Three Seats, Give Me 3 BACK Strokes." The boat has glided across the start line and needs to back down. Steerer commands certain seats (always paddler pair in this case) to paddle exactly 1, or 2, or 3 back strokes to get the boat to alignment at the start line.
ALL BOATS HOLD: Starter referee's call signifying that he/she is getting alignment of all boats. Be ready and focus on your team only to respond, the race is starting any second.
WE HAVE ALIGNMENT/ARE YOU READY?: Starter referee's call signifying that he/she HAS EXACT ALIGNMENT. You should be hearing ATTENTION from your steerer at this time.
ATTENTION (Please): Your steerer's command to get into attention position. Typically it will be Canadian race management companies that say "please," such as GWN—our polite neighbors to the north.
GO! (HORN or GUN sound): Your steerer's command to begin the race –take off on your start sequence.